At our Change Forum we asked the attendees for their Change Pain Points. The following came top of the list:
🧩 Communication
🧩 Engagement
🧩 Stakeholder Management
Overload, Scope, Accountability and Ownership all stood out too.
Are these are familiar Change Points for you or do you feel Change pains in other areas? Let us know in the comments section.
Please get in touch with Ben Walder if you and wish to discuss your Change and Project related challenges and how ISC can help you.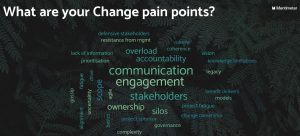 We understand your challenges


We help with implementation