ISC Regulatory Horizon Scanning for 2023 (& 2024)
ISC has reviewed the regulatory horizon for 2023, (but also with an eye on what is coming in 2024), for the UK and European Investment Management industry. The key items of concern for the majority of managers are set out in the diagram below.
At a high level, 2023 is very much focused on consumers, and within that, a good number of these initiatives have an ESG theme. However, topics like transaction reporting and trading-related compliance have not gone away, and 2024 will see these come for the fore again. Remember that some of the preparation for these initiatives carries a significant lead time, and firms will need to consider these and begin work in 2023.
Note that the FCA has yet to release their regulatory initiatives grid for 2023, but this is not expected to change the diagram below significantly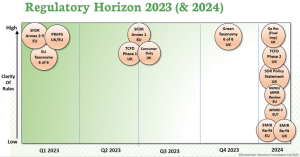 Key to 2023 entries
SFDR Annexe 2-5 (EU) – Sustainable Finance Disclosure Regulation

Annexe 2 & 3 - information and additional comments for the pre-contractual disclosure for financial products referred to in articles 8 & 9
Annexes 4 & 5 – additional periodic disclosures for article 8 & 9 products

PRIIPS (UK/EU) – Packaged Retail and Insurance-based Investment Products

EU – UCITs exemption from KID documentation requirements to cease
UK – sets out the divergence criteria away from PRIIPS EU

EU Taxonomy 6 of 6 – Remaining 4 EU Taxonomy Objectives come into force for 1-Jan-23
SFDR Annex 1 (EU) – Sustainable Finance Disclosure Regulation - Entity level Principal Adverse Impacts (PAI) statement
TCFD Phase 1 (UK) – Entity, product and on-demand client reporting for enhanced SM&CR firms
Consumer Duty UK – Implementation for both new and existing products for retail clients
Green Taxonomy 6 of 6 (UK) – UK Version of EU Taxonomy, high-level objectives aligned but being considered by HMRC
Should you wish to discuss any Regulatory Change related challenges, please get in touch with Jonathan Boswell ([email protected])
 Note: We have not provided a key to the 2024 regulations as yet, but will do in future posts


We understand your challenges


We help with implementation